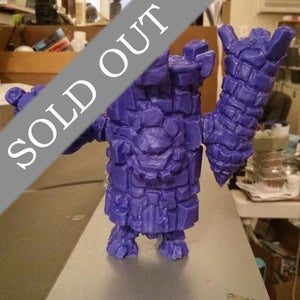 $

40.00
Imagine a giant version of something that started out as a 2" minifigure...or just get this one! Cast in mercury free urethane rubber with 2 points of rare-earth magnet articulation (both arms) and he's a GIANT CASTLE WITH ARMS AND LEGS AND A FACE.
This color was created for New York Comic Con and once it is sold out, that's it!
King Castor was designed by Dominic Campisi of Nemo's Factory and originally appeared in O.M.F.G. Series 1 released by October Toys.
For more information check out:
http://nemosfactory.blogspot.com/
http://octobertoys.com/